M1's new data centre triples its computing power
Source: The Straits Times, FRIDAY, OCT 31 2014
BY GRACE CHNG, SENIOR CORRESPONDENT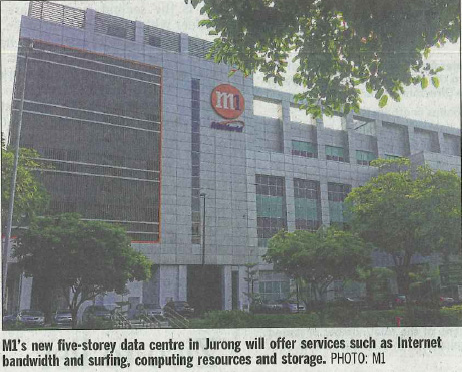 TELCO M1 has opened a new five-storey data centre in Jurong that is tripling its computing power in its quest to make its new fibre offerings more appealing.
The centre will offer services such as Internet bandwidth and surfing, computing resources and storage. Clients will also be able to get applications such as digital phone systems, digital signage and wired and wireless network security. M1 is partnering companies such as Hitachi Data Systems, Alcatel-Lucent and Samsung to provide these services.
The new data centre triples M1's capacity to about 900 server racks. Each racks comprises several rows of computers. Currently, its data centre uses one floor at the Creative Resource building in Jurong East where local tech firm Creative Technology is housed.
M1 director for product development and enterprises services Willis Sim told The Straits Times that internet connectivity via fibre is becoming very competitive.
"We want to give our customers more reason to do business with us. So we're offering this site of infrastructure and cloud services."
Aimed mostly at small and medium-sized enterprises (SMEs), the services offer clients "the opportunity to outsource resource-intensive data centre operations cost-effectively", he said.
The new services are subscription-based, starting from $99.
According to analyst Ryan Huang from financial services firm IG, the new data centre and managed services provide more incentive for non-customers to consider switching providers.
Apart from giving M1 a stronger foothold in the SME business, he said the new service will also help diversify its revenue streams as well as reduce its reliance on the consumer segment.
Construction of the data centre started last year and was completed last month. Over the last two years, M1 has spent $25 million to $30 million yearly in capital expenditure on two major products: the construction of the data centre and the upgrading of its billing and customer care system. The data centre is a state –of-the-art facility.
Mr Sim said: "In data centres, power usage is a major cost. From our network operations centres, we can control temperature and humidity of each server rack."
The server racks also have special enclosure which provide a new way of circulating cold and hot air to ensure the racks are kept cool, which saves energy and benefit customers, he said.
M1 customers will each have a self-service portal by which they can add capacity or new services as and when needed.
"Customers manage their own services. If they see an uptick in their business and want to add more computers or storage, they can do so remotely," said Mr Sim.
However, if they wish to speak to its technical staff, they can also do so, he added.