Malaysia confirms its Singapore-Kuala Lumpur high-speed rail stations
Source: The Straits Times, THURSDAY, OCT 23 2014
Building of the high-speed link could begin in Q3 next year: KL transport official
BY ADRIAN LIM IN TOKYO
The high-speed rail (HSR) project connecting Singapore and Kuala Lumpur will have seven stops in Malaysia, namely Kuala Lumpur, Putrajaya, Seremban, Ayer Keroh, Muar, Batu Pahat and Nusajaya.
While several of the proposed stations had been revealed earlier this year by Malaysia's Land Public Transport Commission, they were confirmed yesterday by its chairman, Tan Sri Hamid Albar.
Construction of the line could begin some time next year, although the actual date has yet to be fixed.
Giving an update on the sidelines of a high-speed rail conference in Tokyo, My Syed Hamid said that Malaysia has completed its feasibility study, which has been shared in Singapore.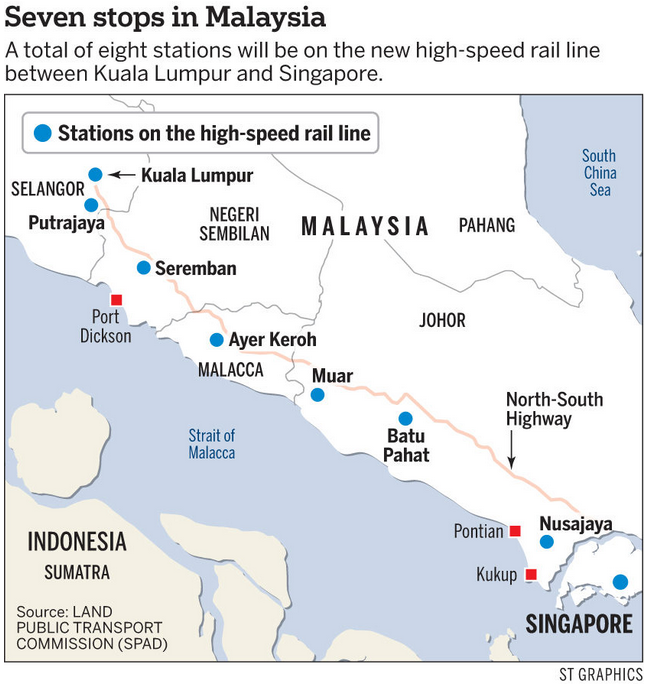 The Malaysians are now waiting for Singapore's own feasibility study for its section of the proposed 320km to 340 km rail, which started in August and is ongoing.
When asked about the timeline of the project, Mr Syed Hamid said construction of the retails could start in the third quarter of next year. 
"I think- this is my own view- that (construction will begin) likely in the third quarter of next year. This is my own guess. We targeted it for next year; when exactly next year, we will wait for the first-quarter meeting between us and Singapore," he said.
With the HSR, commuters can travel between Singapore and KL within 90m minutes. Including time for waiting, transfers and immigration clearance, the total journey could take around 21/2 hours.
Before work can begin, however, details such as the financing and the exact location of the terminus have to be ironed out, My Syed Hamid added.
For Malaysia, the terminus will be in the area of Bandar Malaysia, while Singapore has laid out three possibilities- the city centre, Jurong East and Tuas West.
While an international tender will be called when both countries are ready, My Syed Hamid noted that several countries, including Japan and China, have already expressed interest to develop the Singapore-KL HSR.
A Japanese consortium comprising the East Japan Railway Company (JR-East), Sumitomo Corporation, Hitachi and Mitsubishi Heavy Industries was formed a year ago, and it wants to bring its country's bullet-train system to Singapore and Malaysia.
The consortium has already started the groundwork by making presentations to the commission and Singapore's Land Transport Authority.
With a 2020 target closing in, however, the timeline will be challenging, said one expert.
Mr Tomohiro Kobayashi, a director in the office of project coordination at the railway bureau of Japan's Ministry of Land, Infrastructure, Transport and Tourism, noted that the Tokaido Shinkansen, the country's first HSR line, took nearly five years to construct.
Mr Tomohiro Kobayashi added: "It will be very tough to meet this (2020) deadline… Given the time for designing and other processes… the actual construction should be started within a year."